L'édito de Fred Laffont

ARENA 92

16th Man Stand

ANTHEM

FOLLOW US

ACCESS

RACING MOBILE

LIKE

RACING KIDS

MASCOT
Training Center
« We educate Men »
« Racing hasn't just helped us to become professionals.
It has helped us to become independent, responsible people ».

Fabrice Metz (at the Training Centre for the last 2 years)
Approved by the Ministry of Youth and Sport and the FFR, the Racing Training Centre was founded in 2007. As a reward for its work over the last 4 years, it has just been upgraded to category 2, a decision based on sporting criteria, academic success and the quality of its facilities. Its new objective is to achieve category 1 ranking.
In October 2012, the Training Centre moved to the new Le Plessis-Robinson site, alongside the first team, and with new facilities: offices, classrooms, artificial and grass pitches, bodybuilding room and a new accommodation centre offering bedsit and double-room accommodation for trainees.
The centre, shared with the professionals, should provide an extra source of motivation for the eighteen trainees aged 18 to 21 who play in all our teams: Crabos, Reichel and Under-21s. Many of them have emerged from our rugby school, and some are the result of local talent-spotting organised by the club through the Ile-de-France committee and its 45,000 registered members.
When they join the training centre, all our players are interviewed to find out about their long-term career and life plans. The centre managers then have the role of supporting and helping trainees put their plans into operation.
The Racing Training Centre is :
A week organised into three areas :
Schoolwork, rugby and living as a group

Individual preparation and careful monitoring of all our young players

Another vision of rugby and sport through workshops, mental preparation, video sessions and the intervention of specialists from different environments (RAID police officer, someone from the business world, etc.)

Coaches, fitness trainers, physiotherapists and totally dedicated technical staff.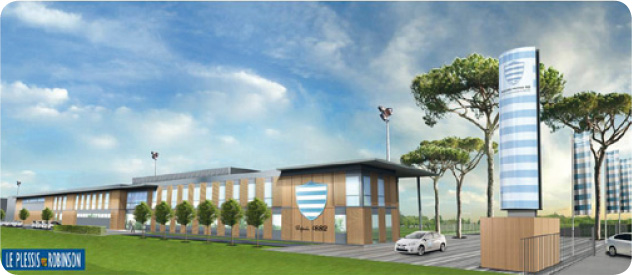 « Racing hasn't just helped us to become professional players. It has helped us to become independent, responsible people ».
Fabrice Metz (at the Training Centre for the last 2 years)
We trained them
Henry CHAVANCY – RM 92
Eddy BEN AROUS – RM 92
Bernard LEROUX – RM 92
Fabrice METZ – RM 92
Julien JANÉ - RM 92
Virimi VAKATAWA – RM 92
Mathieu LORÉE – AGEN
Nathan LANE – ALBI (Pro D2)
Nicolas KRASKA – ALBI (PRO D2)
Maxime GAU – ALBI (PRO D2)
Benjamin PRIER - MASSY (PRO D2)
Mike TADJER – MASSY (PRO D2)
Camille FONTBOSTIER - STADE AURILLACOIS (PRO D2)
Clément AUVERGNAS – BOBIGNY (Féd 1)
Victor PRADEAU – BOBIGNY (Féd 1)
Florian ROMAIN – LILLE (Féd 1)
Damien JOURDAIN – BOURG-EN-BRESSE (Féd 1)